The beauty industry is slowly but surely shifting to a more organic stance. A plethora of age-old natural ingredients have been reintroduced in new-age packaging, and by far the leader of the roost has been the very sought-after Argan Oil.
What is Argan Oil? Where does it come from? Why is it such a beauty hype? Read on for more.
Where does Argan Oil come from?
Often referred to as 'liquid gold', Argan Oil has been a prized beauty secret of the Berber women of Southwestern Morocco for centuries.
Now a mainstream beauty must-have, Argan Oil is highlighted as a key ingredient in many price-heavy products. However, these have very minimal Argan Oil content. 100% pure Argan Oil is rare and expensive.
Argan Oil is derived from the Argan Nut that grows on the Argan Trees of Southwestern Morocco. Local Berber women still use the age-old extracting technique of hand-cracking the nuts between two stones.
The nuts are ground by hand with a stone grinder, hand-kneaded for hours, and cold-pressed into an oil. This is a long, painstaking process and it takes one woman 3 days to produce one liter of Argan Oil. Pure, unadulterated Argan Oil is therefore very precious, and expensive.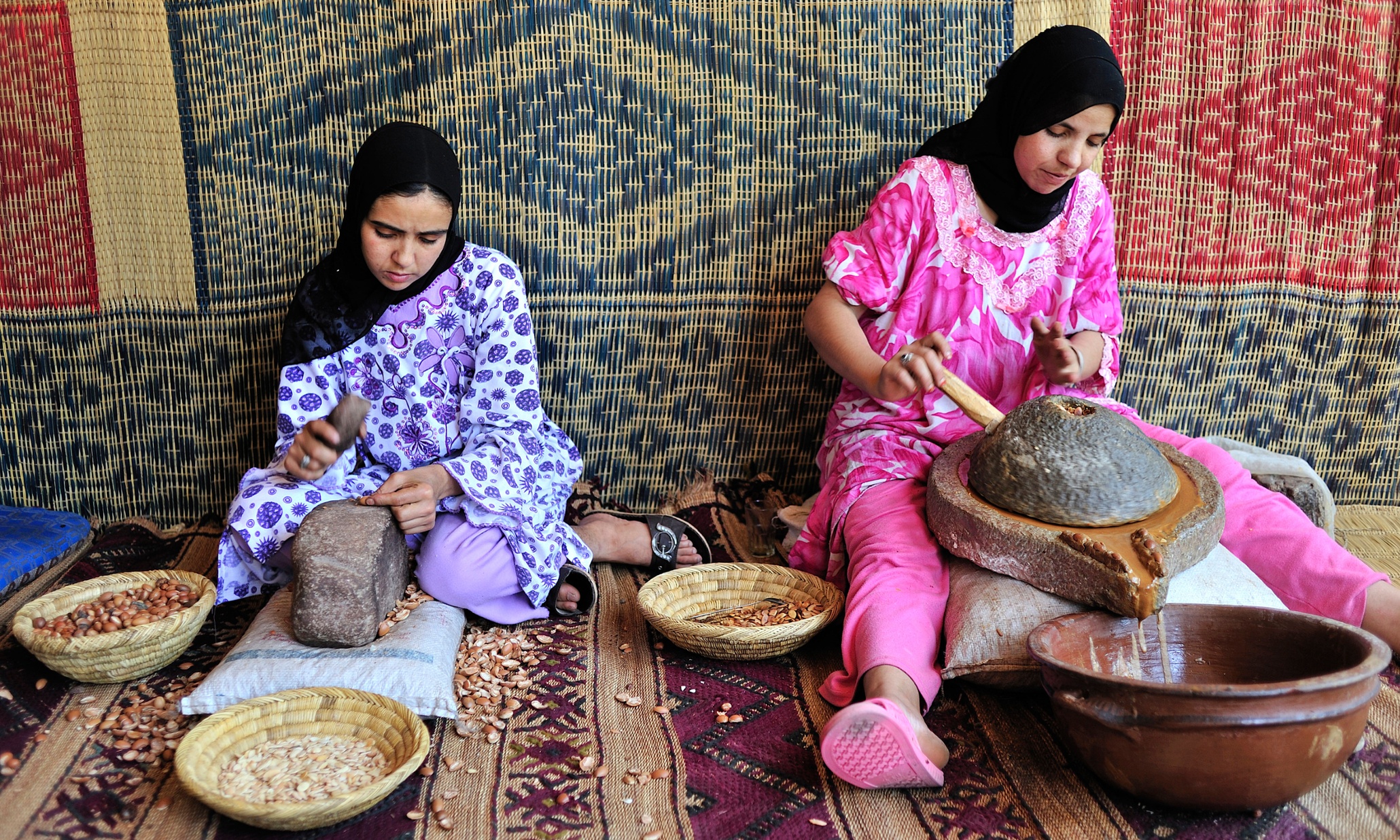 The Berber women work in fair-trade cooperatives, and in 1998 the Argan forest was designated a UNESCO protected biosphere, making the Argan Oil a sustainable product.
What makes Argan Oil so special?
The Argan Nut is so nutritiously dense, that goats climb the trees to eat it!
Key Ingredients in Argan Oil:
Vitamin E: Argan Oil contains approximately 300% more Vitamin E than Olive Oil. The Vitamin E in Argan Oil is rich in an antioxidant called Tocopherol. This antioxidant helps to boost cell production by fighting free radicals, improves the skin's capacity to sustain moisture, and heals damaged, dry skin. Tocopherol also works wonders on restoring hair health.

Omega-6 Fatty Acids: Argan Oil is rich in Omega-6 Fatty Acids, which maintain the health of of the skin's cellular membranes. This improves the overall elasticity and firmness of the skin, and helps protect moisture levels.

Oleic & Linoleic Acids: Crucial to the formation of prostaglandin, which acts as a healing agent and a natural anti-inflammatory.
Natural Antioxidants: These act as a barrier to the skin, and protect it from free radical, chemical, sun and external pollution damage.
Squalene: Healthy, youthful skin produces this antioxidant all by itself. Argan Oil is rich in Squalene, and this helps the skin combat the signs of premature aging. It also has antibacterial properties, and this makes Argan Oil an excellent natural remedy for eczema, acne and psoriasis.
Polyphenols: Argan Oil is loaded with Polyphenols. Apart from working as a free-radical fighting antiseptic with skin-repairing and anti-inflammatory properties, Polyphenols also provide a natural UV protection shield to the skin, and helps it fight sun damage.
Ferulic Acid: This is a  very rare antioxidant that aids in increasing the skin's photo protective properties by four times!
Sterols: Helps to slow down the aging process by increasing the skin's moisture retention, and optimizing the functionality of the skin barrier.
D-7 Stigmasterol: Yet another very rare and highly prized antioxidant that has been clinically proven to help treat wounds, repair the skin and help with the healing process.
Triterpene Alcohols: Yet another strong skin healing ingredient, proven to be especially beneficial as an anti-inflammatory agent.
The Beauty Benefits of Argan Oil
From the long list of prized ingredients in Argan Oil, we can conclude that this miraculous naturally-occurring oil can deliver the following benefits:
Deeply moisturizes the skin
Has anti-aging properties
Promotes skin elasticity and firmness
Has healing, and anti-inflammatory properties
Can be used as a treatment for skin diseases such as acne and eczema
Provides natural UV protection
Adds a youthfully radiant, healthy glow to the complexion
10 Ways to Use Argan Oil
As a Moisturizer: Argan Oil can be used to moisturize the entire body, from head to toe. A little goes a long way, and you only need a few drops per application. Argan Oil is a dry oil, and absorbs into the skin beautifully well without any greasy after-effect. It can therefore be used by all skin-types.
As a Hair Treatment: Use as a leave-in hair mask to nourish your tresses. Massage onto the scalp. Argan Oil is believed to reduce hair-loss and has anti-dandruff properties.
As a Leave-In Hair Serum: Rub in a few drops to the ends of your hair to keep them glossy and well-nourished. Argan Oil will help combat frizz, and reduce the occurrence of split ends.
As a Makeup Remover: Add a few drops to cotton wool, and swipe away every sign of makeup while you let the skin-loving properties of Argan Oil get to work.
As an After-Sun Treatment: Argan Oil is great for soothing sunburn.
As a Skin Treatment: Argan Oil has been proven to work wonders for acne, eczema, psoriasis. It's healing properties helps soothe wounds, and reduce scarring.
For New Mums & Babies: Argan Oil works wonders on pregnancy stretch-marks. As a natural oil loaded with nourishing ingredients, it is safe enough to use on babies and young children. Mummies can use it too, so one multi-tasking product is all you need!
For Mature Skin: Given its anti-aging properties, Argan Oil is great for mature skin. Regular application can significantly reduce the appearance of wrinkles and fine lines, and improve overall skin elasticity and firmness.
As an Oral Beauty Supplement: Argan Oil is loaded with precious antioxidants, and the Berbers even add this oil to their salads. No wonder the Moroccans have enviably flawless complexions! Apart from external beauty benefits, research has suggested that Argan Oil has not only proven to help reduce cholesterol and triglycerides in the blood, but might also contribute to the prevention of various cancers, cardiovascular diseases, and diabetes.
Enhance your regular beauty products: Add a few drops of Argan Oil to your regular moisturizer, face-mask and hair treatment!
Where Can I Buy 100% Pure, Organic Argan Oil?
Izil, the organic beauty brand from Morocco, specializes in sourcing 100% pure, organic argan oil. All their skincare products are enhanced with this 'liquid gold'.
I was fortunate enough to talk to Mouna Abbassy, the founder of Izil, for a previous blog post, and here she talked about the brand's star product, their 100% pure Multi-Purpose Argan Oil.
Being a Moroccan 'Beldi' woman herself, Mouna has followed stringent quality standards to ensure the Argan Oil sold under the Izil brand is of the purest grade. Interestingly, the word 'Izil' translates to 'pure' as well!
This sleek, clear bottle is made of UV resistant material ensuring the shelf life of this precious oil is maximized. I'm also glad the bottle is not made of glass… Glass bottles in the bathroom with accident-prone me is not a good match!
Best of all, the bottle comes with a spray dispenser. This helps minimizing product waste, and makes it very user-friendly.
A 100 ml bottle of the Izil Multi-Purpose Argan Oil retails for AED 250. Yes, its a pretty hefty price tag… but now that you know the story behind Argan Oil, you can appreciate why!
The Izil Multi-Purpose Argan Oil can be bought from the Izil stores in Festival City (Dubai) and Dalma Mall (Abu Dhabi).
Izil also does free delivery across the UAE! Whatsapp them on +971 558 243 993 for order placements.
Look up more of their amazing Argan Oil based beauty products on their website, I bet you'll be as hooked as I am!